Holiday Box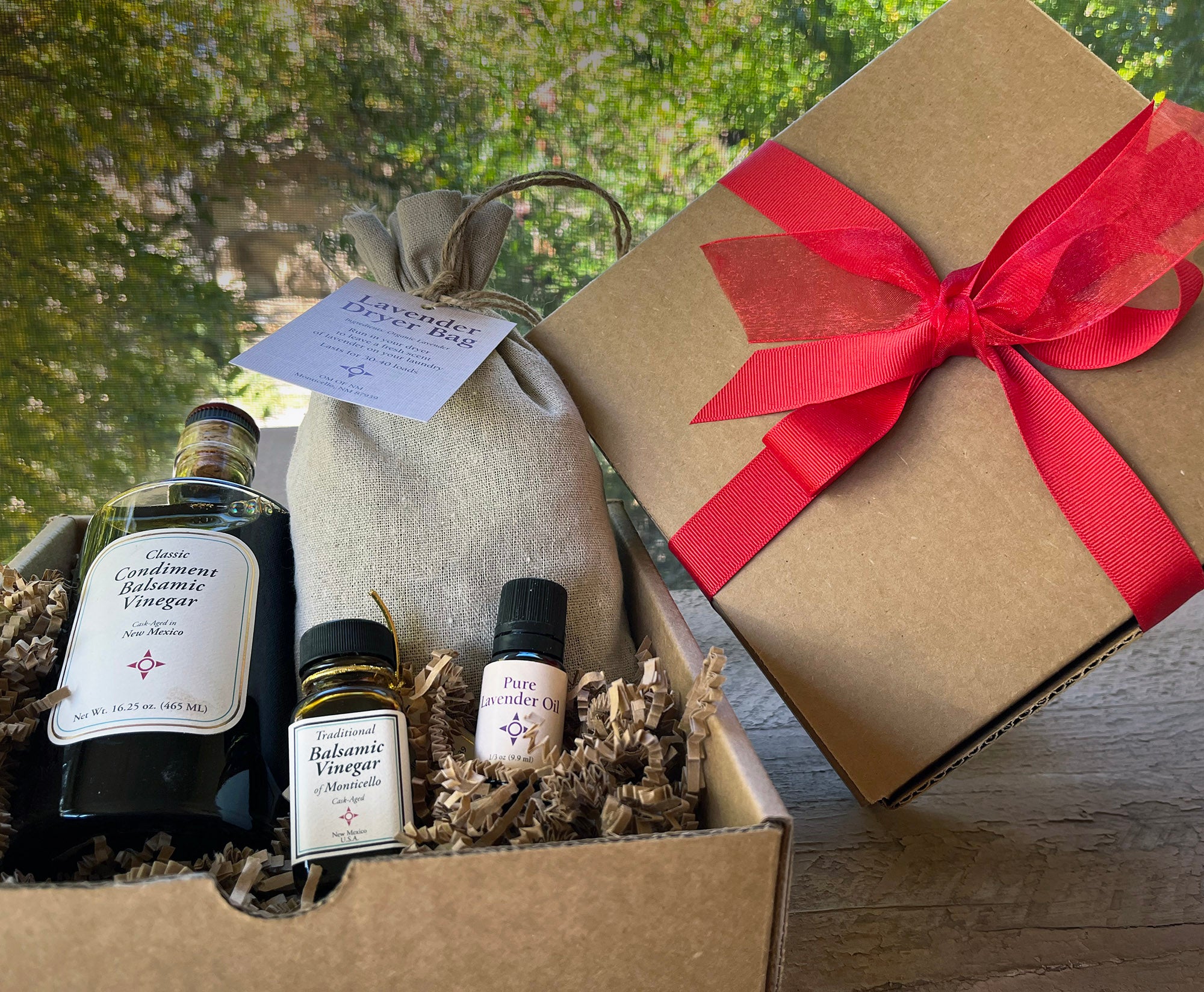 Our younger organic balsamic aged in casks of 7 rare woods. More than 3 times as much volume as our traditional size bottle at half the price. Aged less than a dozen years, but still highly viscous and probably better balsamic than most people have ever tasted.
21-year Cask-Aged Traditional Balsamic
1 oz. size
Exact same organic traditional balsamic in a small size for pocketing to a dinner party or restaurant.
Approximately 12+ servings in each bottle
Lavender Dryer Bag - Organic - 8 oz

Dried organic lavender in a linen dryer bag.

We could all use a little extra relaxation in our lives, and our organic lavender is relief in a bag.  Run this bag in your dryer to leave a fresh natural scent of lavender on your laundry. Lasts for 30-40 loads. 
Or use as a sachet and simply keep in your closet or drawers, and luxuriate in the heavenly scent.

Pure Organic Lavender Oil  - 10ml
Premium Steam-distilled Organic Lavandin.
Lavender is so much more than just a pretty flower with a sweet scent. Incredibly versatile, the health benefits of this amazing natural remedy seem to know no bounds. Calm your mind, activate your senses, and experience true relaxation.
Its powerful healing properties have been used in aromatherapy for thousands of years for a wide variety of ailments ranging from insomnia, headaches, and pain to promoting skin and hair health. 
Add a few drops to a warm bath or shower, for a soothing respite.
Great for Aromatherapy & Massage: Drop a few drops of our pure organic oil into your diffuser for aromatherapy. 
Our dropper bottle is 9.9ml or abut 1/3 ounces which equates to roughly 200 drops of oil. This is very potent stuff and will last for a while :) 
A fantastic gift and a true New Mexico treat.